Come Dine With Me South Africa S8: Ep1 Qudsiya's recipes
Recipes served by Qudsiya Ahmed
Fish Tikka and Zari Muscles and garlic and parmesan focaccia 
RECIPE SERVES (no of people): 4-6
PREPERATION TIME: 1 hour and 30 minutes
INGREDIENTS
Fish Tikka
½ cup Plain yoghurt
½ box Shan Tikka Masala
½ box Shan Tandoori Masala
½ Lemon Fresh Lemon Juice
½ cup Chopped Coriander
¼ cup Chopped Mint
1 tsp Chilli Powder
300g Filleted White Fish
Zari Muscles
1 kg Fresh Muscles
½ Bottle Zari Sparkling grape (white)
1 Litre Fresh Cream
1-2 cups Milk
1 Finely chopped onion
4-6 Cloves Freshly chopped garlic
1 Tbsp Corn Flour
¼ cup Oil
2 Tbsp Garlic and Herb Spice
1.5 Tbsp Fine black pepper
½ Tbsp Robertsons BBQ Spice
1 tsp Salt
½ tsp Fine red chilli powder
Foccacia Bread
½ Sachet Instant Yeast
1 tsp Sugar
1 tsp Salt
1 Cup Lukewarm water
2 plus cups Flour
2-3 Tbsp Garlic and Herb Spice
METHOD
Fish Tikka
Cut Fish into 3x3cm squares and keep aside
Mix ingredients in a bowl (Yoghurt, shan Masalas, chopped coriander, mint and lemon juice)
Marinate the fish in the spices and yoghurt mixture
Place in the fridge for at least 1 hour
Prepare your coals/oven
Skewer Fish and place over coals
Brush with oil and turn over when cooking on the coals
Prepare Muscles
Muscles
Add oil to a large pot
Add onions and stir
Add garlic once onions begin to turn translucent
Add fresh and cleaned muscles
Once muscles release their water on high heat, add Zari
Allow to boil on high heat for five minutes or less
Add Spices: Garlic and herb spice, BBQ Spice, black pepper, some salt, pinch of red chilli or more
 Add Cream and ½ the milk, Stir.
Mix Corn Flour and Milk to create a slurry and pour into the mixture and mix. To create a thick gravy. Add more seasoning if needed. 
Prepare Bread (do this first before above to allow resting time for the dough to rise and prepare above during resting time)
Focaccia
Mix yeast and sugar and salt with the water in a bowl and set aside for five minutes
Sift flour into a large bowl, add Garlic and Herb Spice
Add yeast mixture and knead for 15-20 minutes until a smooth dough is formed
Once rested, knead again
Grease Baking tray, spread out the focaccia into the tray and poke with fingers. 
Bake for 30-45 minutes, serve when hot. Brush with butter before serving and dust with Parmesan shavings and garlic chips.
NOTES
Shan Masalas have salt, no need to add more. Serve fish with a chutney if you would like.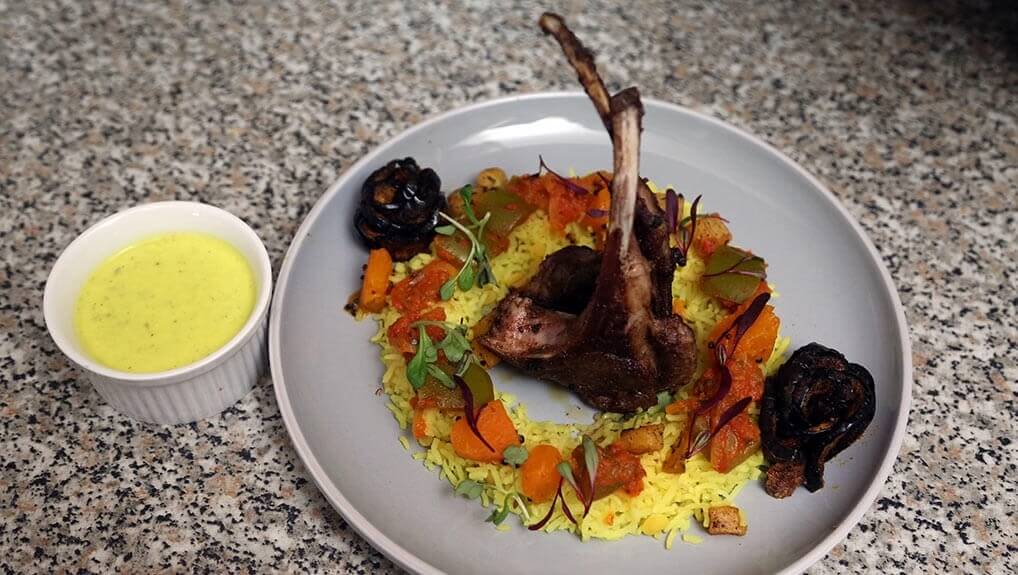 Kurri Kitchrie
RECIPE SERVES (no of people): 4-6
PREPERATION TIME:  2 Hours
INGREDIENTS
Kurri
1 Egg
1.5 Onion
4  Cloves of Garlic
1 Tbsp  Toasted Jeera (Cumin seeds)
½ Handful Coriander 
4 Tbsp Desiccated coconut 
2 Green Chillies
½ tsp Turmeric powder
500g Plain Yoghurt
Rice
2.5 Cups Basmati Rice
Pinch Saffron
¼ tsp Turmeric
2 Tbsp Salt
Pumpkin
2 packets Pre-cut Pumpkin
1-1.5 Tbsp
Black Mustard seeds
2 Tbsp Oil
1 Tsp Red chilli flakes
1-1.5 Tbsp Sugar
Aaloo Fry
2 Peeled Potatoes
1-1.5 tsp Mother-in-Law Masala
2 Cloves Garlic
½ tsp salt
½ tsp Dhana jeera
Brinjal/Eggplants
2 Large eggplants thinly sliced
1 Tbsp Mother-in-law masala
1 Tbsp Dhana Jeera
1 Tbsp Fine chilli powder
½ tsp salt
½ tsp Turmeric 
½ Juice of fresh lemon
Peppers Chutney
1 Onion sliced
1.5 Tomatoes chopped
2 Green peppers
3 Garlic cloves
2 Green chillies
1 tsp Jeera
5 Whole black pepper
2 cloves
1.5 Tsp Chilli flakes
¼ tsp turmeric
½ tsp Dhana Jeera
1 tsp Mother-in-law spice
2 tbsp Oil
Chops
8-10 chops
1 Tbsp Fine Black pepper 
1 tsp Salt
1 Tbsp  Ginger and Garlic Paste
½ Tbsp BBQ spice 
Pinch Red chilli powder
METHOD
Chops
Marinate chops in black pepper, salt, BBQ spice and ginger garlic paste and chilli powder.
Seat on high heat in an oven proof pot/pan.
Once seared, add water, cover and put it in to the oven for 1-2 hours until tender.
Peppers Chutney
Prepare the peppers chutney. 
Add jeera, black pepper seeds, and cloves to a pot, once the pot is hot, add the oil.
Add sliced onions and garlic and stir. 
Add roughly chopped tomatoes and fine spices/masalas. 
Once the oil comes to the top, add cut up green peppers, add water and close the lid to cook. 
Pumpkin
Prepare pumpkin.
Add mustard seeds and a touch of oil to a pot
once the seeds start popping add the pumpkin, red chilli flakes, salt and sugar.
Add some water and let the pumpkin steam, stir occasionally. DO NOT add too much water, add a little as a time until pumpkin is soft and cooked. 
Aaloo Fry
Prepare Aaloo Fry, cut potato into small blocks.
Add some oil, and fry until it starts getting golden on each side.
Add minced garlic and spices. Fry until cooked. 
Kurri
Add all ingredients to a liquidizer
Once fully blended add to a pot
Add more yoghurt if needed
Stir occasionally with a whisk
Allow to cook for 15-20 minutes.
Rice
Wash Basmati Rice very gently and strain
Add rice to a pot with clean water (2 Cups)
Add turmeric, Salt and Saffron
Strain once cooked
Eggplant
Create a paste with the spices and lemon and some water, not too thick.
Thinly coat each piece of eggplant in the spice mix
Fry on high heat with oil
Flip once each side is cooked
Place on a paper towel once cooked
NOTES 
Garnish peppers chutney with chopped dhania. 
Use other meat cuts, like spareribs, sheep's tail or anything else you prefer.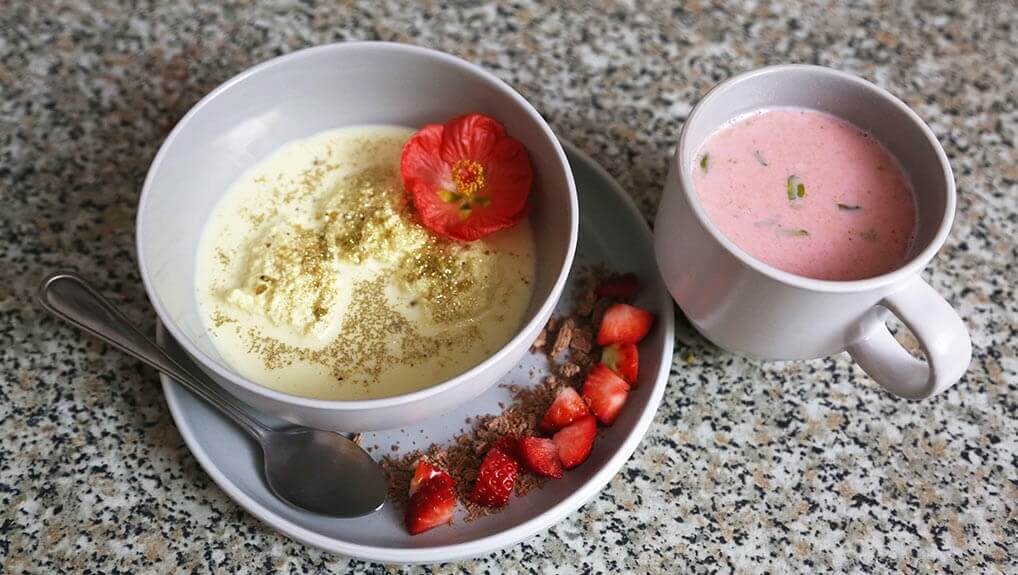 Rasmalai & Kasmiri Chai
RECIPE SERVES (no of people): 6-8
PREPERATION TIME: 20 minutes
INGREDIENTS
1 and 2/3 cups Kilm
3  Elachi (green)
Pinch Saffron
3 Cinnamon stick
4-5 Tbsp Sugar
1 box Badam Milk Mixture
2 Beaten Eggs
1 Tsp Baking Powder
2 Litres Full Cream Milk
METHOD
Add milk to the pot
Add Badam mixture packet about 2/3 packet
Add cardamom (Elachi), Cinnamon and Saffron
Bring to a boil and taste, add sugar if you find necessary.
Sift Klim and Baking Powder together
Slowly add the eggs little at a time until it forms a sticky but workable dough. Knead for 2 minutes.
Shape dough balls into small balls and slightly flatten.
Poke a hole with a toothpick in each ball.
Remove boiling milk from heat.
Slowly and carefully add milk balls to the milk that is no longer boiling.
Add milk to the heat again on medium heat, balls will double in size.
Balls should flip over by themselves.
Balls should cook for 15-20 minutes on low to medium heat.
Allow to stand for 10 minutes, before transferring to a dish to refrigerate. Serve cold Kasmiri Chai
Boil milk, add sugar, add tea bags and simmer on low heat until ready to serve
NOTES
Garnish with a few strands of saffron or almonds or pistachio.
Serve with a cup of kasmiri chai, made with chopped pistachio and whole milk.