Come Dine With Me South Africa S8: Ep10 Lindsey's recipes
Thursday 15 December 2022
Served by Lindsey Kin
Gỏi cuốn – Braaied chicken Vietnamese wraps, accompanied with dipping sauces
RECIPE SERVES (no of people): 4 to 6    
PREPERATION TIME: 1 to 2 hours depending on braaiing time    

INGREDIENTS 
400g (1 tray) Skinless chicken mini thigh (or breast) fillets
40g (1 pack) Satay spice blend
1 pack (500g) Rice paper wrappers
30g – according to your taste Fresh herbs (basil, mint, coriander)
1 Cucumber
4 eggs
10g (1 small box) Edible flowers
100g (1 pack) Julienne Carrots
400g packs (use only 1 bundle in the pack) Vermicelli rice noodles
SAUCE: garlic, chilli, soy
1tbsp crushed garlic
1 green chilli
3tbs soy
SAUCE: ginger onion
3 tbsp grated ginger
half an onion thinly sliced
SAUCE: Peanut sauce     
½ cup crunchy peanut butter
Onion
Green Chilli
2tbsp hoisin
1tbsp rice vinegar
½ cup water
1 tsp garlic powder
 
METHOD
Marinade chicken in satay spice mix for a minimum of 15 minutes (the longer the marinading time the better)    
While chicken is marinading, prepare your braai, noodles, and fresh raw vegetables.     
Vegetable and herb prep: julienne carrots and cucumber. Remove herb leaves off its stem.   
Grill the chicken    
soak vermicelli noodles in hot water until al dente, and then drain    
beat eggs and pour into a frying pan. And lightly fry until the egg resembles a very thin pancake. Then, cut into rectangles.     
Once chicken and noodles have cooled down, you can then begin to build and wrap.    
Dip wrapper in a tray of water until soft and then take out the water. Lay wrapper flat on a board.
In the middle of the wrapper:
- lay flowers and herb leaves
- lay 1 piece of rectangle shaped egg directly on top of flowers and herbs
- lay noodles, vegetables, and chicken
Fold uncovered sides inwards and roll the wrapper tightly into a spring roll shape.
Repeat with remaining ingredients
SAUCE: garlic, chilli, soy
- Heat oil until smoking and add garlic and chilli. Take off the heat and allow garlic and chilli to fry off in the heated oil.
- once garlic begins to become light golden brown, add in the soy
- put back onto heat until soy begins to bubble
- take off heat and allow to cool down. Once cooled down, sauce is ready
SAUCE: ginger onion
- Heat oil until smoking and add the ginger and onions
- turn heat down and add a pinch of salt
- Continue cooking for another 5 minutes
- take off heat and allow to cool down. Once cooled down, sauce is ready
SAUCE: Peanut sauce
- Add all ingredients for peanut sauce into a saucepan
- Whisk together on medium heat until all ingredients are thoroughly mixed
- Take off heat and allow to cool down. Once cooled down, sauce is ready
NOTES
Always remember to season ingredients with salt and pepper.
To save time on vegetable preparation, mixed pack of fresh stir fry vegetables can be used.
For sauces, adjust amount of ingredients according to your own personal taste.
Substitute or add any of your favourite ingredients for the wrapper filling.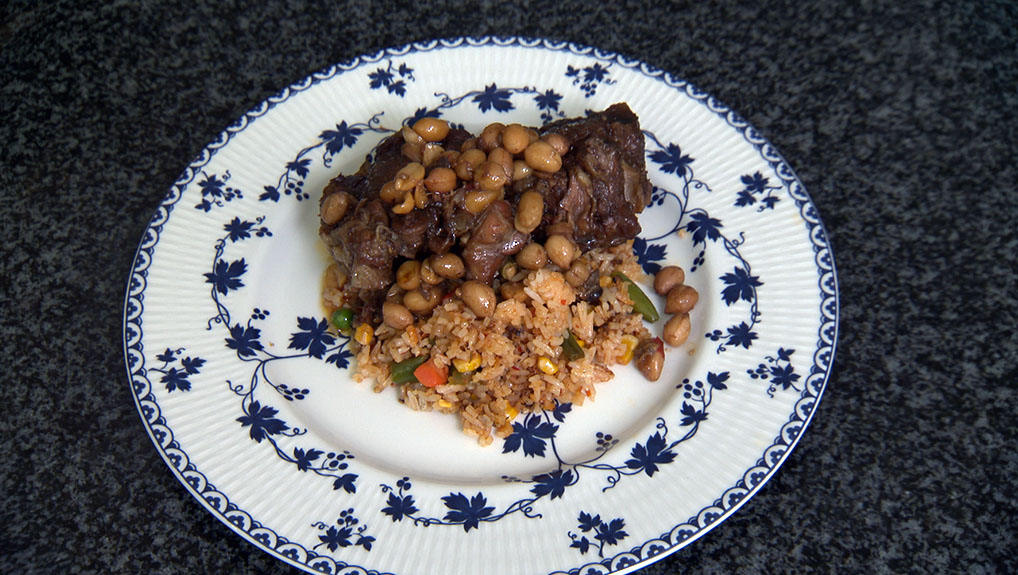 Ho-Tong Peanut Oxtail
RECIPE SERVES (no of people): 4 to 6 people    
PREPERATION TIME: 3 to 4 hours depending on the quality of the oxtail    
INGREDIENTS
(+ -) 1.2 kgs Oxtail
1 cup Raw peanuts
1 tbsp Chilli bean sauce (Toban Djan)
1 tbsp Garlic chilli sauce
2 tbsp Ground bean sauce
1 tbsp Fermented black beans (Douchi/豆豉)
1 Ginger thinly sliced
1 tsp Crushed garlic
1 tsp Soy sauce
Green Chilli
Rice
Oyster Sauce 
pinch salt
pinch White pepper
1 tsp Sugar 
2 tbsp Maizena
Fresh Garlic
METHOD
Season oxtail: Add all ingredients (EXCEPT FOR GINGER) into a bowl and mix with hands until oxtail is fully covered
Fry off fresh ginger in casserole dish (or pot/ slow cooker pot), then add the oxtail and braise on high heat till oxtail brown on the outside
Add water to cover all oxtail and add peanuts
Slow cook/ simmer for 3 to 4 hours until oxtail is soft, and water has half simmered away until a thick sauce form
NOTES
Take out peanuts if allergic
Add 1 tbsp green chilli for a little kick
Cut down on oven time: Oxtail can be pre-boiled for 1 hour until softened, then add all seasoning ingredients, and slow cook in oven.
Melktertjie spring rolls with homemade vanilla ice-cream    
RECIPE SERVES (no of people): 4 to 6 people    
PREPERATION TIME: Ice-cream (overnight to set)    
INGREDIENTS
1 litre (enough to fill three condensed milk 3 tins) Milk
385g (2 cans) Condensed milk
6 tbsps Maizena 
1 Cinnamon stick
1 pack Phyllo pastry
2 eggs
3 tbs Brown sugar
1 tbs Cinnamon powder
1 tsp Vanilla (essence/ paste/ pod)
500ml Double-thick cream
2 cups Oil for deep frying spring rolls
METHOD
1. Make MILK TART CUSTARD
Pour one full tin of condensed milk into pot
Use same can measure milk. Add tins of milk
Add cinnamon stick
Heat until nearly boiling, then turn heat down to low
In a separate bowl beat two eggs, then mix beaten eggs with Maizena and another tin of milk. Then, add this mixture to pot
Slowly cook on low heat. Be sure to continue to stir so that custard does not burn. Custard is ready once mixture is thick. Take off stove and allow to cool down completely   
2. Make the CINNAMON SUGAR by mixing together the cinnamon powder and brown sugar.
3. Make the full MELKTERTJIE SPRING ROLL
Unroll phyllo pastry and cut into 4 large squares. Then, separate each sheet
Lay one thin piece of phyllo flat on the board
3cm from the bottom of the phyllo square, place 1tbsp of custard. Roll the sides and bottom inwards and roll once. Then sprinkle a pinch of the cinnamon sugar and continue to tightly roll until a spring roll/ cigar shape is formed.
Continue with remaining ingredients.
Deep fry spring rolls until phyllo pastry turns golden brown and crunchy
Straight after taking spring rolls out the oil, dust and season with cinnamon sugar
4. ICE CREAM
Beat cream until it becomes stiff. Do not over beat cream, or it can turn into butter.
Add 1 tin condensed milk and vanilla (essence/ past/ seeds of 1 pod) and continue mixing.
Once all ingredients thoroughly mixed together, put into container and into the freezer. Allow to set over night  
NOTES
Substitute vanilla in ice cream with flavoured syrups to make your choice of ice cream.