Come Dine With Me South Africa S8: Ep12 Tramayne's recipes
Served by Tramayne Monaghan
Smoked Ricotta Ravioli    
RECIPE SERVES (no of people): 4
PREPERATION TIME: 45 min

INGREDIENTS
200 grams flour
4 Eggs
1 teaspoon Sunflower oil
1 cup Ricotta
1 teaspoon Liquid smoke
Sour Cream
200 grams Butter
Handful Sage
Cup of Parmesan
METHOD
Put flour in a bowl, make a well in the middle and crack in two eggs. Scramble the eggs with your fingers or a fork, add a teaspoon of oil and start adding flour into the eggs. Continue mixing the eggs and flour until well combined, then knead the dough and shape into a ball. Cover the dough with a napkin or foil and let rest for half an hour
Prepare the ricotta filling: in a bowl, crumble ricotta (with liquid smoke and smash with a fork. In a separate bowl, crack open an egg, whisk well and then add about half of it to the ricotta with half a cup of parmesan grated finely
Divide pasta dough into 6 pieces and roll out thinly, to about 2 mm thick. You can do that by hand or use a pasta maker
Take the ricotta filling and assemble your ravioli. Place a small-ish lump of the filling in the middle of a dough circle. Moisten the edge of the ravioli by sticking your finger in a glass of water and then rubbing it all around the edge of the ravioli. Then, take another dough circle and place on top of the circle with the filling. Press the ravioli edge well with your fingers and then with a fork to form the pattern.
Place a large pan on the stove and add butter. Heat it up on medium until it melts and then cook some more until it browns. Then, add in sage leaves and fry them up until they change color and stiffen, about a minute or two
Place a large pot of water on the stove and bring to a boil. Season with salt, then carefully add the ravioli, reduce heat and cook on low for about 4 minutes, until the raviolis increase in size and are cooked al dente. When the raviolis are cooked, use a skimmer to carefully remove them from the pot and drain, and then immediately add them to the butter sauce.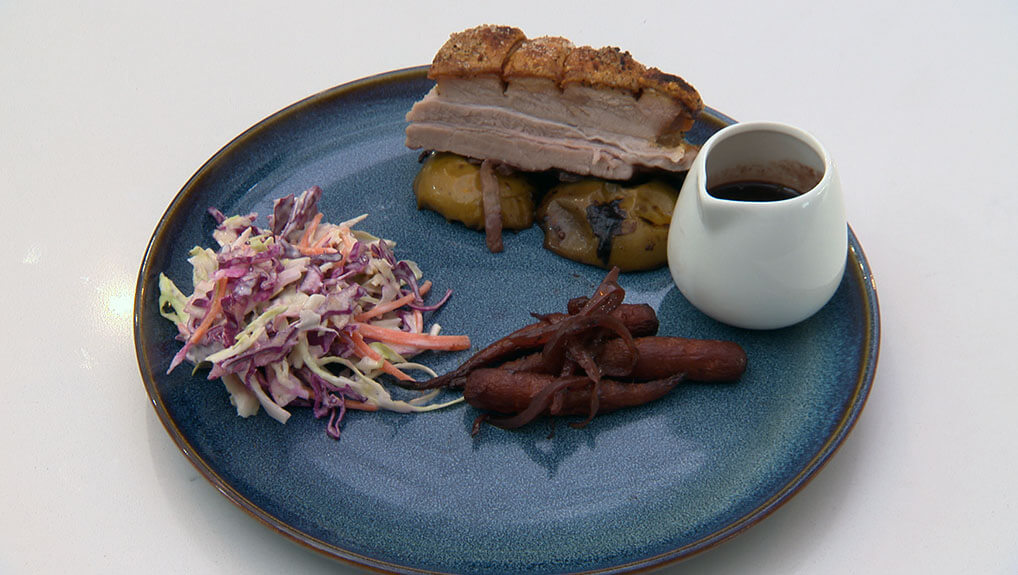 Crispy Pork belly with roasted apples and cabbage    
RECIPE SERVES (no of people): 4
PREPERATION TIME: 30 min prep, 3.5 hours cook    
INGREDIENTS
1.2kg Deboned pork belly
6 Thyme strands
whole Red cabbage
Apple Cider Vinegar 
3 cups Red wine (pinot noir)
¼ cup Castor sugar
1/3 cup Red wine vinegar
3 Green apples
Mayonnaise
Red Wine Vinegar
Carrots 
Barbeque Asian spices 
METHOD
Reheat oven to 150°C (130°C fan-forced). Using a sharp knife or clean box cutter, deepen any scoring in rind and fat of pork (do not cut through meat). Rub 2 tsp sea salt flakes into scored rind and fat. Season the meat with more salt. Fold a 30cm x 60cm piece of foil in half to make a 30cm square. Place thyme sprigs in Centre of the foil and top with the pork. Crimp the edges of the foil so foil goes up the sides of pork and below pork skin (this allows pork to cook in its own juices). Place on a large, rimmed baking tray.
Roast pork for 3 hours or until fork tender. Remove pork from oven and increase temperature to 250°C (230°C fan-forced). Use tongs to carefully lift pork from foil. Pour off fat and discard foil and thyme. Return pork to the tray and roast for 25-30 mins or until the rind crackles. 
Melt 20g butter. Add one-third of the cabbage. Season with salt and cook, stirring, for 3 mins or until wilted. Add remaining cabbage, in 2 batches, and cook for 3 mins or until wilted.
Add wine or stock, sugar, star anise and ¼ cup (60ml) vinegar to cabbage. Bring to a simmer, stirring to dissolve the sugar. Cook, stirring occasionally, for 35-40 mins or until cabbage is tender and most of the liquid evaporates. 
To make the caramelized apples, in a medium bowl, toss the apples and sugar until combined. Melt the butter in a large frying pan over medium heat. Add the apples and cook, without turning, for 3 mins or until golden underneath. Turn and cook for 3 mins or until apples are caramelized.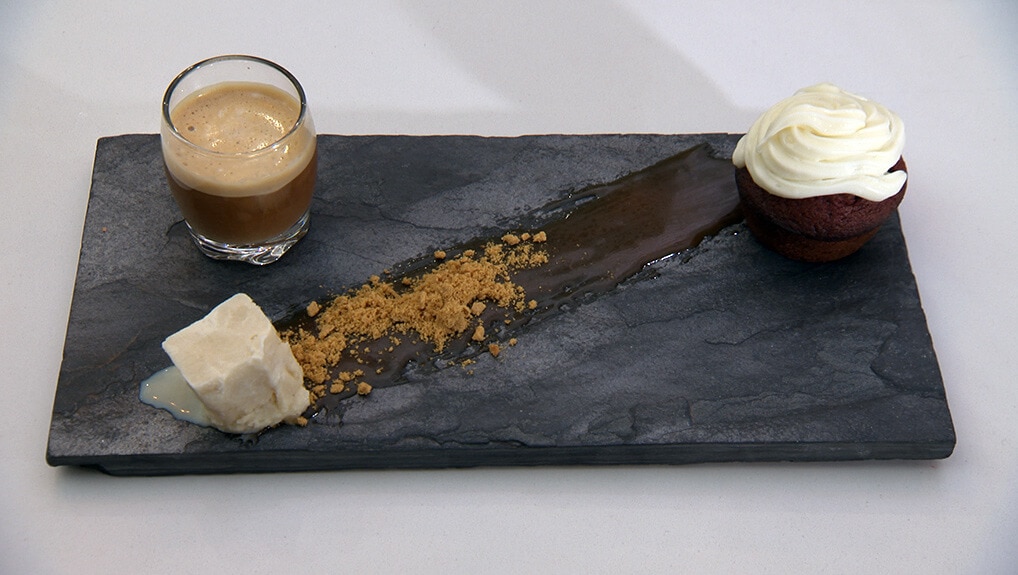 Flaming Cupcake
RECIPE SERVES (no of people): 20 cupcakes    
PREPERATION TIME: 25 min prep, 20 min cook    
INGREDIENTS
¾ cup Pre-Mixed Flour
1 ½ cup Liquid Apple Smoke
1 ½ tspoon Baking soda
¾ tspoon Baking powder
¾ tspoon Salt
2 eggs
¾ cup Hot water
¾ cup Heavy cream
3 tbspon Vegetable oil
2 tspoon Vanilla extract
Fresh Cream
Cocoa powder sifted
20 Ginger Biscuits
Sugar
Salted Butter
METHOD
Preheat oven to 350 degrees. Line muffin tin with cupcake papers and set aside.
Sift together cocoa, flour, sugar, baking soda, baking powder and salt into a large bowl. Add eggs, water, heavy cream, oil and vanilla. Mix with a handheld mixer until smooth
Divide batter among muffin cups, filling each half full. Bake for 20 minutes. Let cool before frosting
In the bowl of a stand mixer fitted with whisk attachment, cream together sugar, cocoa and butter; beginning on low speed then increase to high. Beat until fluffy and lightened in color. Transfer mixture to a piping bag fitted with a decorative tip. Frost cupcakes
Hollow the strawberries carefully. If you pierce the side of the strawberry accidentally, start with a new one. Since you'll be setting the liquor aflame, it is important that the strawberry is leak-proof.
Set one strawberry atop each frosted cupcake. Fill strawberries with liquor just before lighting