Come Dine With Me South Africa S8: Ep2 Michael's recipes
Thursday 20 October 2022
Recipes served by Michael Jacobs
Crispy prawn tacos with Asian slaw
RECIPE SERVES (no of people): 4
PREPERATION TIME: 45min
INGREDIENTS  
2 cups Flour
1.5 teaspoons Baking Powder
12 King Prawns
½ cup Sour cream
4 Limes
1 bag Asian slaw mix (lettuce, cabbage, carrot, beetroot, red pepper, coriander) 
1 cup Asian slaw dressing (chopped garlic, chopped ginger, chilli ;flakes, honey, soy sauce, rice vinegar, sesame seed oil)
0.5L Cooking oil
Pepper
Salt
METHOD
Make tacos by combining flour, baking powder and water. Knead out the dough and allow to rest for 20min covered by dish cloth. Once rested, roll out small plate sized tacos to 2mm thick and sprinkle with flour on both sides.
Prepare Asian slaw by thinly slicing lettuce, cabbage, carrots, beetroot, red pepper and coriander. Then combine in one salad bowl.
Prepare salad dressing by add chopped ginger (1 teaspoon), garlic (1 teaspoon), ½ teaspoon chilli flakes, 1 teaspoon sesame seed oil, 1 teaspoon rice vinegar, 1 tablespoon soy sauce and 3 Dessert spoons honey, salt. Mix together well and place in fridge to chill for 10 minutes.
Deshell and clean prawns, Marinade with lime, chilli, salt & pepper, then batter by dipping in corn flour, then egg and then into breadcrumbs.
Preheat pot with oil for 10minutes till hot, then fry prawns for 1 minutes on each side (2 minutes total) and remove and place in bowl with bed of roller towel to remove excess oil.
Finely chop coriander, then combine in bowl with sour cream and 2 x tablespoons of lime. 
Fry tacos in dry pan on medium-high heat for 1 min on each side and remove and place tacos in basket covered.
Combine ingredients by starting with taco, add 2 tablespoons of Asian slaw mix, then add 2 table spoons of salad dressing, 1 table spoon of sour cream mixture and top with crumbed prawn.
Teriyaki Salmon on bed of wasabi mash with charred broccoli
RECIPE SERVES (no of people): 4
PREPERATION TIME: 1 hour
INGREDIENTS
4& Salmon fillets (250g each)
6 Medium Potatoes
500g Broccoli
2 teaspoons Fresh Garlic and Ginger, Sesame seeds
2 tablespoons Cooking oil, brown unrefined sugar
½ cup each of the following: Saki (rice wine), mirin (sweet rice wine) and soy sauce
2 tablespoons of the following: Butter, Wasabi
½ cup Cream
1 tablespoon
Corn Starch (add double water)
METHOD
Chop/mince garlic and ginger. 
Heat cooking oil in wok on stove at medium-high heat.
Add chopped garlic and ginger and fry in wok till fragrant (2-3min). Then add ½ cup Saki, ½ cup mirin, ½ cup soy sauce and 2 tablespoons of brown sugar to wok and stir well.
Cook down liquids in wok by 1/3, stirring occasionally, turn work to low heat and add corn starch and water slurry (1 part corn starch for every 2 parts water) and teriyaki sauce is done.
Preheat oven to 180 degrees, place salmon on tray (space in between) and cover with Teriyaki sauce. Place in oven for 8-12 minutes depending on how you like you Salmon cooked.
In a boiling pot of water add peeled and potatoes, boil for 15-20 minutes till soft. Then turn oven to low and mash potatoes while adding butter, cream and wasabi. Mash and stir for 5-10 minutes till smooth. Strain through mesh sieve.
Fry broccoli in a pan with 2 tablespoons of cooking oil on medium-high heat for 5-10 minutes till soft and charred.
Combine items on plate and serve.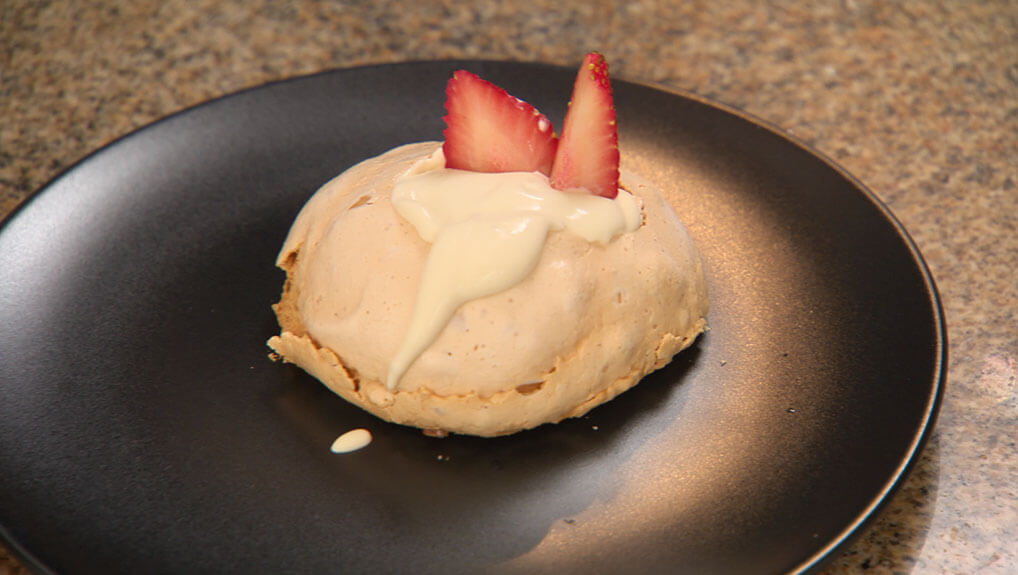 Pavlova with malted cream and fresh strawberries
RECIPE SERVES (no of people):
PREPERATION TIME: 2 hours
INGREDIENTS
200g Castor Sugar
¼ teaspoon Cream of tartar
4 Egg whites
1.5 teaspoons Corn Flour (Maizena)
1 cup Whipping Cream
4 tablespoons Horlicks
8 Fresh Strawberries 
Vanilla Extract
METHOD
Separate eggs. Combine egg whites and cream of tartar into mixing bowl, and whisk till bubbly and white (not glossy)
Then add in combined Castor sugar and corn flour, 1 tablespoon at a time while continuously whisking the mixture.
Continue whisking mixture till white glossy and firm enough with hard peaks, add vanilla extract.
Pre-heat oven to 130 degrees.
On a baking tray and baking paper (held down with little dabs on mixture in corners), add mixture in cup full amounts to create 4-6 pavlova tarts. 
Add baking tray to oven for 1 hour at 130 degrees. Once hour is complete turn off oven and open oven door slightly, and allow pavlova to cool down in oven for next 20-30 minutes
In a separate mixing bowl combine cream and Horlicks to create malted cream and mix till cream has soft peaks.
Add malted cream on top of cooled down pavlova's along with fresh berries and serve.