Come Dine With Me South Africa S8: Ep3 Michael's recipes
Thursday 27 October 2022
Recipes served by Pamela Mahada
I was going to make a spaghetti squash but then I thought, I butternut
PREPERATION TIME: 20 minutes and 60 MINUTES cooking time
INGREDIENTS
1 large onion
1 bunch celery stalk
2 butternut
4 garlic clove
1 litre beef stock
3 spoons butter butter 
1 teaspoon each: nutmeg, ginger, curry, sugar, cinnamon, sugar, coriander, salt and pepper, funnel seeds
1 can coconut cream
METHOD
Peel butternut and toss in spices
Cover with foil and roast for 40 minutes 
Fry onions till translucent
Add celery to onions and garlic
Add roasted butternut to onion mixture and add stock
Simmer for 10 minutes
Remove from heat, blitz and add cream as needed
Serve with chive oil and onion crisps (blitz chives and olive oil and strain with paper towel/sieve)
NOTES
Add spices at your discretion. Use vegetable stock for less meaty taste in soup.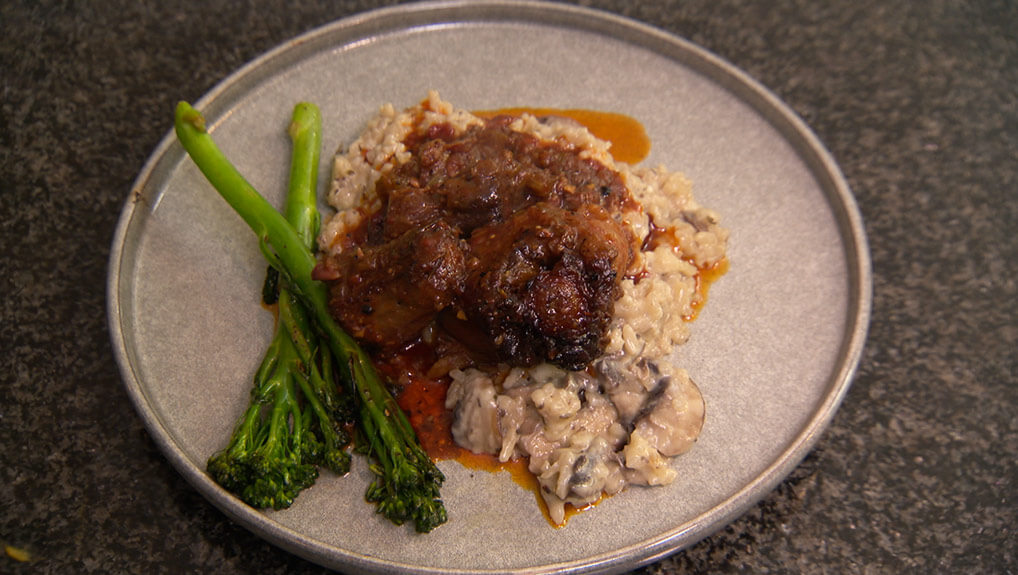 A tale with many rooms
RECIPE SERVES (no of people): 6
PREPERATION TIME:3 hours 30 minutes
INGREDIENTS
For the risotto
1 cup Risotto
3 Shallots
120ml White wine of your choice (dry)
White Sugar
1 cup Parmigiano-Reggiano and 2 tablespoon mascarpone for serving
3 cloves Garlic
Salt and pepper 
500g Mushrooms (porcini and portobello)
4 cups Chicken stock
For the oxtail
2.5kg oxtail
1 large red onion
200g celery
2 tablespoons garlic
Fresh bay leaves, rosemary and thyme
Fresh leeks
Broccolini packet & lemon
2 cans tomato
1litre beef stock
Worcestershire sauce
Spices: Curry powder, Paprika, Salt and pepper, Oregano, Chicken/barbeque spice, Masala spice
1 tablespoon tomato paste
METHOD
Start with oxtail season oxtail with salt and pepper and seal in hot pan with olive oil
remove from the pan
sauté onions until translucent, add celery, leeks, and garlic
Add the bay leaf, rosemary and thyme. Add your spices at this point 
Add the tomato paste and cook down for a bit
Add tomato cans, add beef stock and worchester and then return oxtail back to pan and place in oven for 3 hours
For the risotto:
First soak porcini mushrooms in warm water to release the juices
Fry the porta Bellini mushrooms separately and put aside
Fry the shallots in butter and olive oil
Add in the risotto and fry but not burn
Add a glass of white wine and let the wine cook down
Add warm chicken stock a spoon at a time, wait till it dissolves then repeat until risotto is cooked
add cheese once done
mascarpone cheese and fresh coriander when serving
For the side veggies:
Sauté carrots in butter, coriander and orange juice until sticky but still crunchy
Sauté broccolini in olive oil and squeeze fresh lemon juice over it before serving
NOTES
Sauté in olive oil and butter at own discretion for risotto
Thyme is totally optional for risotto

Oxtail: 3hrs min cooking time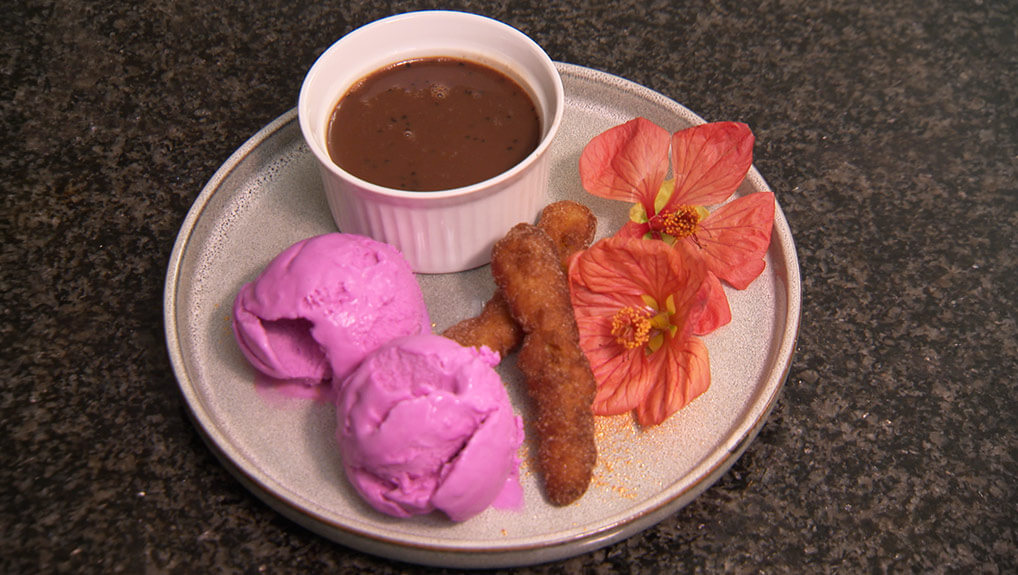 I'm lavender weather this winter
RECIPE SERVES (no of people): 8
PREPERATION TIME: 20 MINUTES (Churros) overnight steep lavender and 20 MINUTES CHURNING TIME
INGREDIENTS
For The Churros
240ml water
85g salted butter
13g castor sugar
120g flour
3 larg eggs
Cinnamon sugar (as desired)
2/3 cup whipping cream
2/3 cups chocolate chips
For The Ice Cream
Half cup castor sugar
2 tablespoons powder milk
¼ teaspoon xanthan gum
2 tablespoons glucose syrup
1 1/3 cups milk and whipping cream
¾ cup water
¼ cup honey
½ cup lavender buds
METHOD 
Mix sugar, milk, and gum in a bowl and stir
Add milk and glucose into a pan and stir
Add the sugar mixture and stir and let simmer until the sugar has dissolved (do not boil)
Add the cream to the mixture and set aside overnight.
Boil water and honey then take off heat and add lavender. Cover and leave overnight to steep.
Add milk and lavender mixture (after straining lavender buds) and churn in ice cream machine for 20-25 minutes- freeze till ready to serve
For the churros: bring the water, butter, salt and sugar to a rolling boil over medium-high heat. When it boils, immediately take the pan off the heat.
Add the flour to mixture and mix till it all comes together. Return to heat and cook for 30 seconds
Mix with hand mixer or stand mixer and egg 1 egg at a time, add vanilla. Mix until glossy
Heat oil to 188 degrees
use muffin tins to make cups or make any desired shape
fry for 90 seconds on each side until golden brown.
Dip in cinnamon sugar before serving with ice cream
for chocolate sauce: add all ingredients together and pop into microwave before putting as a side or drizzle on the ice cream
NOTES
Purple food colouring is totally optional.