Come Dine With Me South Africa S8: Ep4 Devon's recipes
Thursday 3 November 2022
Recipes served by Devon Llywellyn
Steamed mussel pot in white wine broth served with home-made bread
RECIPE SERVES (no of people): 4 People
PREPERATION TIME: 25 Minutes
INGREDIENTS
1 teaspoon
Butter
1814g Mussels
2 teaspoons
Olive Oil
1.25ml Crushed red pepper flakes
1-2 teaspoons Crushed Garlic
2 teaspoons Chopped fresh flat-leaf parsley
1-1/2 cup Dry white wine, such as Sauvignon Blanc
500g White bread flour, plus extra for dusting
7g Yeast
1 tsp Caster sugar
2 tsp Salt
1 tsp Sunflower oil, plus extra for the work surface and bowl
METHOD
Rinse the mussels well under freezing water. Pick them over, pulling off any beards and discarding any mussels that are broken or gaping open.
In a large pot with a lid, heat the oil and butter over medium heat. Add the garlic and red pepper flakes and cook until fragrant and soft but not coloured, 3 to 5 minutes.
Add the mussels, wine, and half of the parsley. Increase the heat to high and cover the pan. After 2 minutes, remove the lid and toss the mussels well with a large spoon. Cover the pot again and cook until the mussels have opened wide, another 3 to 4 minutes. Add the remaining parsley, give the mussels a final toss, and divide the mussels and the broth among bowls.
For the Bread Dough: Tip the flour, yeast, sugar, salt, and oil into a bowl. Pour over 325ml warm water, then mix (with a spatula or your hand), until it comes together as a shaggy dough. Make sure all the flour has been incorporated. Cover and leave for 10 mins.

Lightly oil the work surface and tip the dough onto it. Knead the dough for at least 10 mins until it becomes tighter and springy. Pull the dough into a ball and put in a clean, oiled bowl. Leave for 1 hr, or until doubled in size.

Tip the dough onto a lightly floured surface and roll into a long sausage shape. Halve the dough, then divide each half into four pieces, so you have eight equal-sized portions. Roll each into a tight ball and put on a dusted baking tray, leaving some room between each ball for rising. Cover with a damp tea towel and leave in a warm place to prove for 40mins-1 hr or until almost doubled in size.

Heat the oven to 230C/210C. When the dough is ready, dust each ball with a bit more flour. Glaze the rolls with milk or beaten egg. Bake for 25-30 mins, until light brown and hollow sounding when tapped on the base. Leave to cool on a wire rack.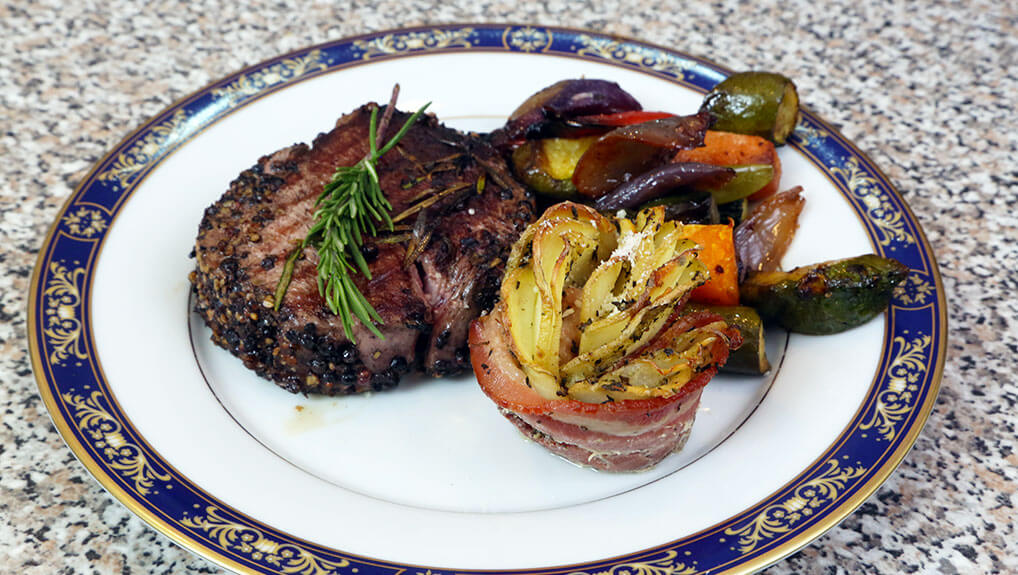 Spiced Filet mignons on a bed of crispy potatoes flambéed in Cognac and red wine served with seasoned vegetables
RECIPE SERVES (no of people): 4
PREPERATION TIME: 1 Hour
INGREDIENTS
4x Fillets spiced in black pepper and rock salt
500g Baby potatoes
1 teaspoon Olive Oil
1 teaspoon Garlic
1 teaspoon Italian Herbs
Parmesan cheese
Bacon
Oregano
Fresh parsley
1 teaspoon
Cajun
Freshly Ground Black Pepper
1x Lemon Wedge
450g Woollies Seasoned Vegetables
1 Tablespoon 
Lemon pepper
1 teaspoon 
Salt
5 Tablespoons
Butter
½ Cup Pinot Noir Red Wine
3 Tablespoons Brandy or Cognac 
¼ Cup Chopped Green onions
½ cup Heavy Cream
1x Shallot chopped
1 teaspoon Sugar
METHOD
Press crushed peppercorns into both sides of each steak. Sprinkle it with lemon pepper and salt.
Melt butter in a large skillet over medium-high heat. Stir in garlic and& wine and cook for 1 minute. Arrange steaks in a pan, and cook until desired doneness, about 5 minutes per side. Reduce heat to low.
Pour brandy into steaks, and carefully light with a match. Let the flames burn off. Sprinkle green onion and shallot around the steaks and circle the steaks with cream. Cook, stirring sauce, until hot. Transfer steaks to plates. Stir the sugar into the sauce, and then spoon over the meat.
In a large bowl, toss potatoes with oil, garlic powder, Italian seasoning, and Cajun seasoning, if using. Season with salt and pepper.
Place potatoes in a basket of air fryer and cook at 400° for 10 minutes. Shake basket, stir potatoes, and cook until potatoes are golden and tender, 8 to 10 minutes more.
Squeeze lemon juice over cooked potatoes and garnish with parsley before serving.
Preheat the air fryer to 360 degrees F (180 degrees C) for the veggies
Coat Veggies in a large bowl with olive oil, parsley, and veggie spice. Place in Air fryer and cook, stirring halfway, in the preheated air fryer until tender crisp, about 10 minutes.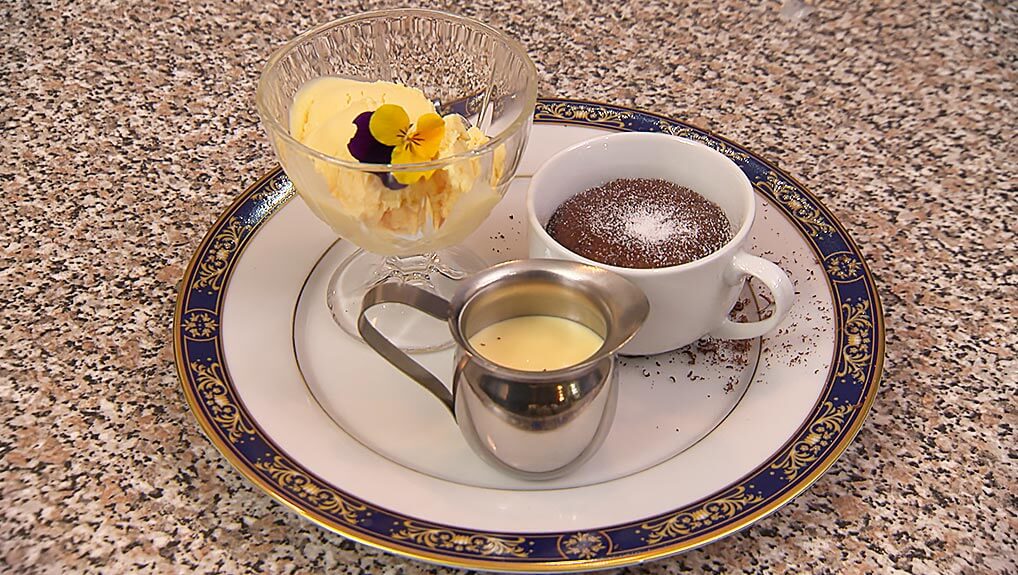 Bittersweet chocolate soufflé served with crème anglaise, and a Scoop of old-fashioned home-made vanilla bean ice cream
RECIPE SERVES (no of people): 4
PREPARATION TIME: 1 Hour
INGREDIENTS
142g Dark Chocolate powder
2 teaspoons Unsalted butter
3x Large eggs separated 
2x tablespoons Sugar
1x teaspoon Vanilla essence
1x pinch of Salt
Icing Sugar for dusting
1 cup full cream milk
½ vanilla pod
3x Egg Yolks
80g castor sugar
1x Pinch of Salt
1 ¼ cups Heavy Cream
2 ¼ cups Milk
2 teaspoons / 2x Vanilla Essence
¾ Cup Sugar
Coco Powder
3x Egg Yolks
1 cup whole milk
¾ cup granulated sugar
2 cups heavy Cream
¼ teaspoon salt
1x vanilla bean
1 teaspoon vanilla extract
6x large egg yolks
METHOD
FOR THE SOUFFLE
Preheat the oven to 400F. Liberally butter 4 ramekins and coat all inside surfaces with granulated sugar.
Gently melt the chopped chocolate and butter in a medium-large bowl over barely simmering water, being careful not to have the bowl touching the water or allow any water to splash into the bowl.
When the chocolate is completely melted, remove from heat, and whisk in the egg yolks, extract, and salt, until smooth.
Meanwhile, beat the egg whites in a separate bowl until foamy, then add the sugar and continue beating until stiff peaks form.
Carefully fold the egg whites into the chocolate until no white streaks remain. Try not to deflate all that air you just whipped into them. 
Note: you may want to do this in stages, starting with 1/3 of the whites first to loosen the chocolate, then add the rest. Chill for 15 minutes in the refrigerator.
Divide the batter equally between your prepared ramekins, and gently smooth out the top surface, if necessary. Run an offset spatula (or your finger) around the top rim of each cup, to separate the top of the mousse from the sides of the ramekin. This helps the soufflé to rise straight up.
Bake for 10 -12 minutes until risen. The soufflés will still be a little wobbly. Note: depending on how full you filled your ramekins, the soufflés may or may not rise above the rims, but they will be puffed up.
Serve asap with a dusting of powdered sugar.
FOR CREME ANGLAISE
Bring the milk and vanilla pod to a boil in a small saucepan.
In a small bowl, whisk together the egg yolks, sugar, and salt.
When the milk has reached boiling point, slowly whisk it into the egg yolk mixture to temper the eggs.
Pour the custard back into the saucepan and over low heat, allow to cook whilst continuously stirring until thickened.
When the custard is cooked, pour through a sieve, and refrigerate until cool.
When the Souffle is baked, pour over the sauce, and serve immediately with the creme anglaise.
FOR THE HOME-MADE ICE CREAM
In a deep saucepan, warm up milk, sugar, salt and 1 cup heavy cream. 
Split vanilla bean in half lengthwise. 
Scrape seeds from the vanilla bean and add them to the saucepan. 
Add vanilla bean and cover. Warm it up and remove from heat just before it starts boiling. 
Remove from heat and steep for 20 minutes. Remove the vanilla bean after that.
In a medium bowl, whisk egg yolks. Very slowly pour warm milk, whisking constantly.
Transfer mixture back to the sauce pan and set heat to medium. Cook, stirring constantly with a spatula, scraping the bottom of the pan. Cook, until the custard thickens and coats the spatula.
Pour the remaining 1 cup heavy cream into a large bowl. Strain custard over the bowl and whisk to combine. Add vanilla extract.
Cool over an ice bath. Once it is cool to room temperature, cover, and chill overnight.