Come Dine With Me South Africa S8: Ep5 Kenny's recipes
Thursday 10 November 2022
Recipes served by Kenny Smith
Buffalo Cauliflower Taco
RECIPE SERVES (no of people): 4 People
PREPERATION TIME: 45 Minutes
INGREDIENTS
2 cups Masa Harini
2 cups water
1 head cauliflower
cup panko
1 egg
1 tablespoon each: onion powder, garlic powder, cayenne pepper, smoked paprika, corn flour
to taste: Kosher Salt and black pepper
1/2 cup hot sauce of your choice
100g butter
50 grams blue cheese
2  avocados
100 ml sour cream
2 cloves garlic
75 ml lime juice
1 bag coleslaw mix
1 handful: chopped coriander leaves
METHOD
1. mix the Masa and 2 cups of water to form a dough and let it rest. Once rested for 10 minutes form balls and press into tortillas. Cook tortilla in a pan on medium to high heat flipping so as not to burn.
2. on a medium heat combine the butter and hot sauce to make sauce for cauliflower.
3. combine avocado, sour cream, garlic, lime juice, water and a pinch of salt in a food processor and blend until smooth. 
4. combine Avocado Crema with ruby slaw and keep left over crema to drizzle over taco later.
5. mix panko and spices in a bowl and in a separate bowl beat an egg
6. dip cauliflower in the egg and then the panko mix andplace in a lined air fryer
7. fry cauliflower till crispy. Toss in buffalo sauce mixture and fry again for 2 minutes.
8. layer coleslaw and cauliflower on tortilla. Crumble blue cheese on top and drizzle with more avocado crema. Garnish with fresh chopped coriander leaves

NOTE: Salt and black pepper will be added to the tortilla, avocado crema and panko mixture  throughout the cook.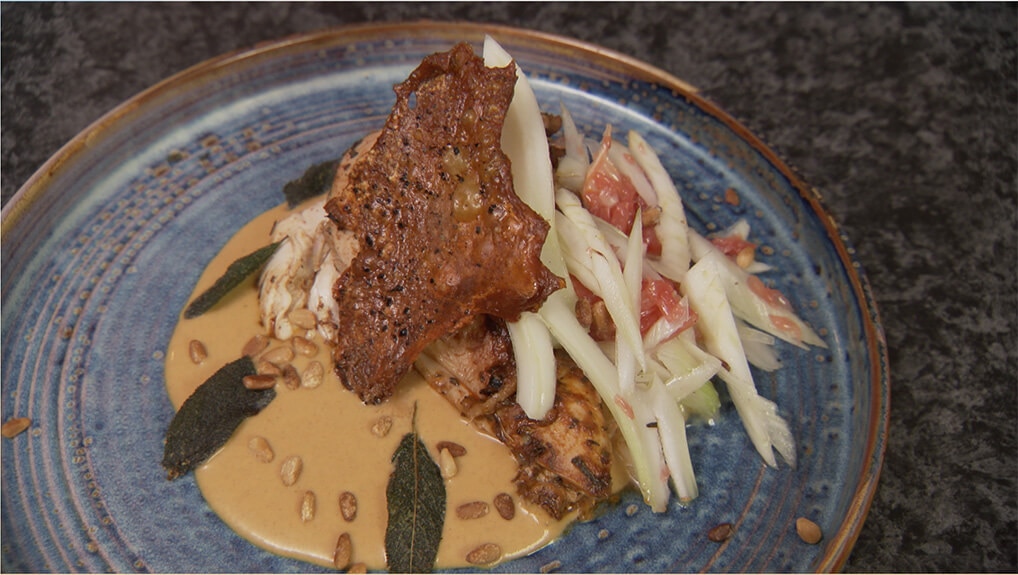 Pecan Smoked Chicken
RECIPE SERVES (no of people): 4 People
PREPERATION TIME: 2-3 hours
INGREDIENTS
2 whole baby chickens
75ml olive oil
100 ml lemon juice
2 tablespoons each: onion powder, cayenne pepper, mustard powder, garlic powder, smoked paprika, lemon zest, rosemary, sage, thyme, tarragon
1 bottle Apple Cider vinegar
500g butternut
200g butter
100ml full cream milk
50g pine nuts
1 punnet Sage leaves
1 fennel bulb
1 grapefruit
 to taste: Kosher Salt and black pepper
METHOD
1. combine (50mI) olive oil, (75mI) lemon juice, lemon zest and spice mixture to create marinade for chicken. Rub spice on chicken, place ½ lemon inside the chicken.
2. smoke chicken in smoker with Pecan wood chips/chunks until internal temp reaches 75 degrees. Basting and spritzing with Apple Cider Vinegar every 30 minutes.
3. make brown butter by slowly cooking butter until browned. Deep fry sage leaves in butter as it gets to temp. separate sage leaves from brown butter.
4. cook butternut until soft.
5. combine butternut, brown butter, and milk into blender and blend until smooth.
6. toast pine nuts in the oven
7. thinly slice fennel bulb and mix with grapefruit segments. Toss with olive oil and lemon juice
8. place all ingredients together

NOTE:  Again, salt and pepper to be added to all components to taste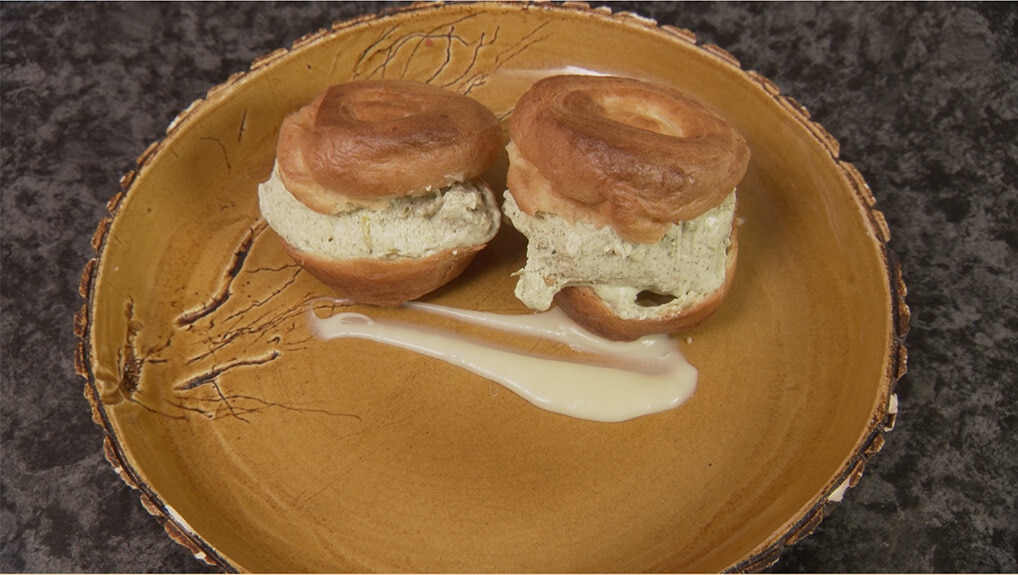 Ice Cream Sandwich
RECIPE SERVES (no of people): 4 People
PREPERATION TIME: 1 hour
INGREDIENTS
1 cup  water
71 g  butter
170 g  Castor sugar
Pinch salt
1 cup flour
4 whole eggs
1 cup cream
1 tablespoon Matcha powder
3 egg whites
1 teaspoon vanilla paste
3 limes (zested and juiced)
100 g white chocolate
METHOD
1. Combine water, butter, 30 grams of sugar & salt in a pan
2. Cook until butter is melted but do not boil
3. Add flour and mix until dough has formed and is nice straw colour
4. Add to a mixer and mix in whole eggs 1 by 1
5. Pipe onto a muffins tray  and bake until puffed and golden brown
6. Mix egg whites till soft peaks. Add in 1/3 of sugar and matcha until stiff peaks are formed
7. Whip cream and 1/3 sugar to make whipped cream, add vanilla paste
8. In a saucepan combine remaining sugar and lime juice and zest until sugar melts.
9. Melt white chocolate
10. Combine, whipped matcha, whipped cream, melted chocolate and lime and place in a lined baking tray
11. Once frozen cut choux bun and add frozen mixture.