Come Dine With Me South Africa S8: Ep6 Nina's recipes
Thursday 17 November 2022
Recipes served by Nina Nel
Beetroot and Whipped feta
RECIPE SERVES (no of people): 4 People
PREPERATION TIME: 45 Minutes
INGREDIENTS
100g Danish feta
2 tbsp EVOO
Salt and pepper to taste
Lemon to taste
Twelve small, red, yelow beetroots
Thyme
Olive oil
1/2 pear
2 radish
Balsamic Glaze
12 roasted Walnuts
1 egg
30g plain flour
30g breadcrumbs
3 tbsp white wine vinegar
1tsp Sugar
METHOD
1. Heat oven to 180C. Mix beetroot in EVOO and salt thoroughly and place in oven for 30-40min.
2. Whisk feta, EVOO, salt, pepper, and lemon together, and sift the mixture until it is a smooth consistency.
3. Roll whipped feta mixture into balls and place in freezer for 20min.
4. Mix egg in a separate bowl. Roll feta balls in flour, egg, and breadcrumbs. Spray with cooking spray and in air fryer at 180C for 10-12min.
5. Slice radish in thin disks, pickle in vinegar and sugar.
6. Slice Pair into disks. Crumble walnuts. Arrange all the items on a plate and finish off with balsamic Glaze.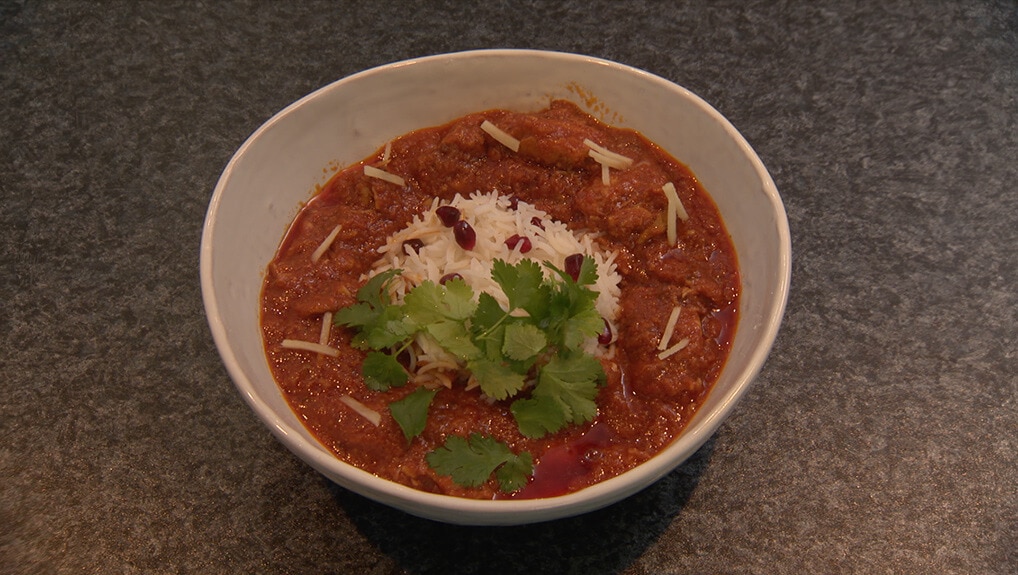 Ruby Chicken
RECIPE SERVES (no of people): 4 People
PREPERATION TIME: 7-27 hours (including the marinade time)
INGREDIENTS 
Sauce
35g garlic
175ml canola Oil
20g fresh ginger
2 bay leaves
6 green cardamom pods
2 black cardamom pods
1 tbsp honey
1 tsp ground cumin
1 tsp dried fenugreek (powder)
½ tsp fresh dill
80ml cream
2 cinnamon sticks
2 tsp salt
30g butter
1 tsp chili powder
20g sugar
800g tinned tomatoes (blitzed)
1 tsp Garam masala
Marinade
700g skinless, boneless chicken thighs
20g unsalted butter
50ml cream
10g fresh ginger
20g chopped garlic
5g salt
1 tsp chilli powder
1 1/2 ground cumin
½ tsp Garam masala
2 tsp lime juice
2 tsp canola oil
75g Greek yoghurt
For grilling
50ml cream
20g unsalted butter
METHOD
Sauce
1. Place the saucepan containing the oil back over a medium-high heat and add the bay leaves, green and black cardamom pods and the cinnamon sticks. Let then crackle for 1 minute, stirring regularly.
2. Turn the heat down. Grate the garlic and the ginger to a fine paste add. Cook for 5 minutes, allowing the paste to brown but not burn.
3. Add the tomatoes, salt and chilli powder to the pan. Bring to a rapid simmer and cook until reduced by half, stirring regularly so that it doesn't catch.
4. Add the butter and simmer for 5 minutes.
5. Add the garam masala, sugar, honey, cumin, crispy garlic, dried fenugreek and fresh dill fronds and cook for a further 15 minutes.
6. Add the cream and simmer gently for 5 minutes. 
Marinade and grilling
1. For the marinade, blitz the ingredients together in a blender to a smooth paste.
2. Cut the chicken into chunks, add to the marinade and turn to coat. Cover and leave to marinate in the fridge for 24 hours.
3. Heat the grill to medium-high. Place the marinated chicken on a rack in the grill pan, brush with the melted butter and grill for 8-10 minutes, until cooked.
4. Warm a large saucepan over a medium-low heat. Add the sauce, cream and grilled chicken and simmer very gently for 10 minutes.
5. Serve with Basmati rice mixed with pomegranates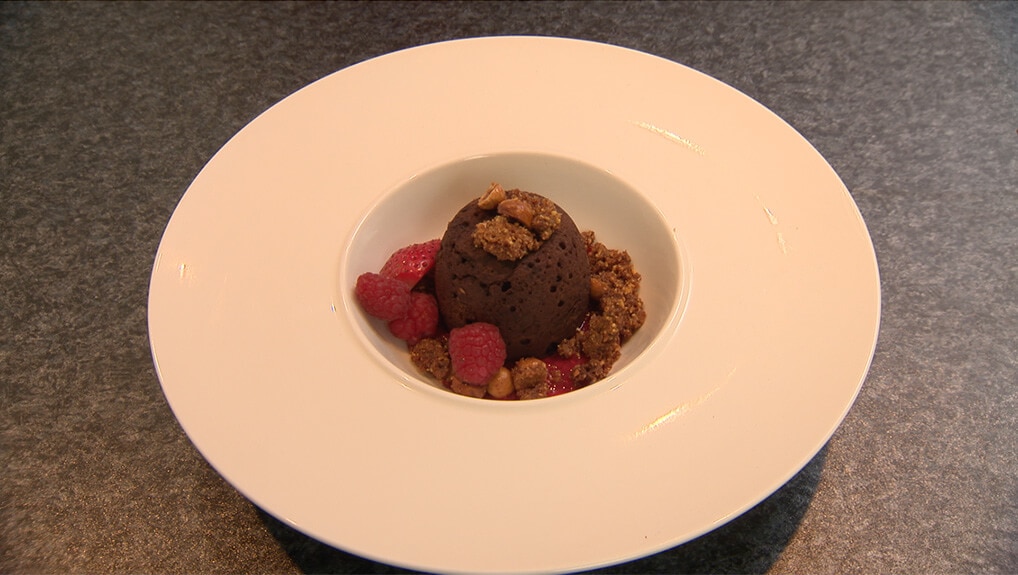 Chocolate Fondant
RECIPE SERVES (no of people): 4 People
PREPERATION TIME: 45 Minutes
INGREDIENTS
30g melted butter (brushing mould)
2 tsp cocoa (dusting mould)
100g dark chocolate (chopped)
100g butter (chopped)
100g caster sugar
 2 + 2 eggs + yolks
100g plain flower
Berry Coulis sauce
100g mixed berries
50g caster sugar
METHOD
1. Brush melted butter all over the inside of the pudding mold. Place the mold in the fridge or freezer. Brush more melted butter over the chilled butter, then add a good spoonful of cocoa powder into the mold. Tip the mold so the powder completely coats the butter.
2. Place a bowl over a pan of barely simmering water, then slowly melt dark chocolate and butter together. Remove the bowl from the heat, leave to cool for about 10 mins.
3. Whisk eggs and egg yolks together with golden caster sugar until thick and pale. Sift flour into the eggs, then beat together.
4. Pour the melted chocolate into the egg mixture in thirds, beating well between each addition, until all the chocolate is added, and the mixture is completely combined.
5. Tip the fondant batter into a jug, then evenly divide between the molds.
6. Heat oven to 200C. Place the fondants on a baking tray, then cook for 10-12 mins until the tops have formed a crust and they are starting to come away from the sides of their molds.
7. For the sauce, heat mixed berries and sugar together in a saucepan while crushing berries into a pulp.